Regular Billing
A.L.S. offers a variety of billing options for leases, for any payment timing (any day of month, due on first, weekly, monthly, quarterly, etc.) . You may set up your accounts to be billed selecting from the following options:
E-mail – Invoices can be e-mailed directly to your customer. A copy of the invoice is saved for reference and you have an option tp print it if you want a hard-copy, but you save the postage!
Invoices – One lease per invoice.
Fleet invoices – One invoice per customer, with account detail for each lease associated with that customer.
Coupons – One coupon for each payment due for a specific customer.
Fleet Coupons – One coupon for each lease associated with a fleet.
ACH Billing – Accounts marked ACH will not appear on an invoice or fleet invoice normally, however you do have the option to print them an invoice or statement along with your normal invoice run or separately if you customer requests a copy for their records. For full ACH processing refer to our Optional ACH Processing software.
No-Bill – Generally used for in-house deals, accounts marked with this option will not receive a bill (for example, an employee with a lease may have the amount automatically deducted from his pay).
An option also exists to produce a comma-delimited (CSV) file of your invoice information to be used by a third party, or to be exported for use in a mail merge document or spreadsheet.
At any time during the life of your account, the billing type can be changed. It is also a reportable field, so you can keep track of which type is being used for different accounts.
Delinquent Accounts
The system will automatically assess late charges based on the grace period specified on each unit. The software allows you the option to produce delinquency notices for the customer and/or his guarantors.
Miscellaneous Invoices
You can bill non regular "miscellaneous" charges separately from your normal monthly payment if you choose to do so. With a variety of options and selection criteria, this feature helps you optimize your collection time on pass through expenses.
Paper Invoices or coupons may be printed on pre-printed forms or on plain paper. A sample of our standard invoice form is shown below. This can be customized to meet your needs.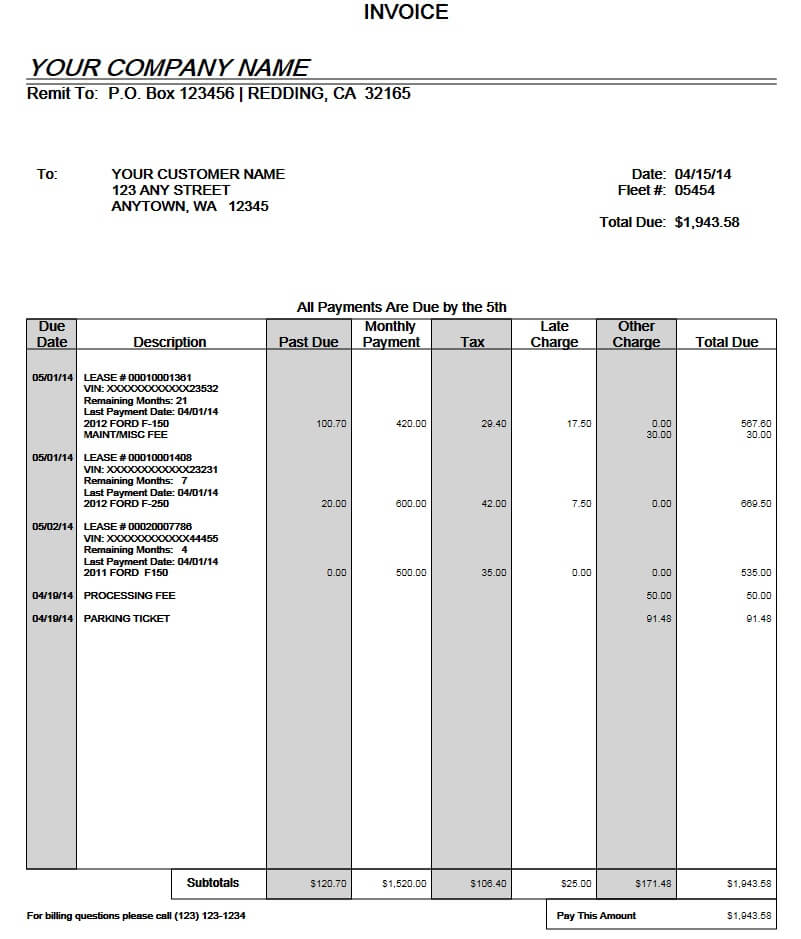 View Lease Software Features