Collections Tracking
Collecting lease payments and making sure your accounts stay current is easy with the A.L.S. Lease Accounting and Management System.
We offer single asset invoices, fleet invoices, and the printing of coupon books. Bank account information can be stored for your Automatic Clearing House (ACH) customers. Open item invoices/statements are also provided to collect additional charges and/or late charges from coupon book customers. You can even create a comma-delimited (CSV) file of invoice/coupon information to send to an outside printing source.
Payments may be posted on an individual account basis or for all accounts in a Fleet. Payments post quickly with very little operator interface. Payments can be posted to all charges due or distributed to individual charges due.
Collection personnel will have several tools available in order to make collection calls quick and efficient. Accounts can be assigned to specific collectors and placed into a queuing file for that collector when the account is delinquent. When the queue file is used, your collection officer can work a delinquent account, mark it with a resolution and move on to the next account in their queue just like that!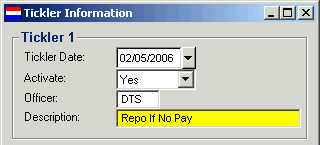 From the main Collection Module screen a collector can access an account's payment history, see up-to-the-minute receivable information, and all available contact information for the customer. Notes can be made and reviewed. Reminder "ticklers" can be set and then automatically reported to a collector when the tickler date has expired.
Within the Collection Module collectors can notify other office personnel regarding specific account collection issues. Internal memos can be written and directed to any network printer. Accounts can be flagged with a message that will appear on the screen every time that account is accessed within the Lease Accounting and Management System. Anyone that accesses that account will be alerted immediately by the message and will be able to take appropriate action.
An up-to-the-minute Delinquency Report and Credit A/R Report can be generated on demand. Collectors can be notified easily of payments posted to delinquent accounts by reviewing the daily Delinquent Payments Received Report. The system can be set up to automatically assess late charges and can produce delinquency notices to be sent to the customer and/or guarantors.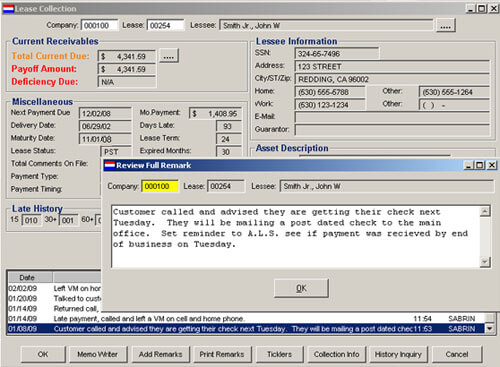 View Lease Software Features