Concurrent Note Accounting
Accounting for lease receivables and income is only half of your lease accounting job. Tracking outstanding note obligations must be done in order to determine the profitability of your leased portfolio. We can help you do that!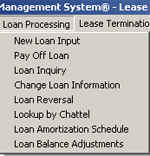 Our Lease Accounting and Management System gives you the ability to track outstanding notes for more than one funding source. Unique general ledger accounts can be assigned to each of your funding sources so your balances are easy to retrieve.
Note interest types can be set up as simple interest, level principal or rule of 78's. Our Notes Payable Report can be used to verify your outstanding note data against your funding source's statement. Our End of Loan Term Report will assist in your review of balloon payment obligations coming due in future months.
Several reports, including our 5 Year Cash Flow Report and Cash Flow Analysis Report, provide you with monthly and annual projections of revenue vs. expense, keeping you on top of your financial status.
View Lease Software Features